When you purchase a car, generally not much else is needed to start taking full advantage of it. However, an RV is more like a home and is going to need "stuff" to make it truly usable. Much of what you need for an RV doesn't fall into the "RV gadgets and gear" category, but instead are the same as what you use in your stationary home. It is absolutely worth duplicating these items so you don't have to haul all that stuff from the house to the camper for every trip. Yep, the camper is going to be like a smaller version of your home.
In this article I'll be going over the RV specific items I recommend. There are thousands of gadgets being made for RV's, and we are going to boil that down into a few categories, from the must have items to general niceties and totally optional, but cool none the less.
If you are new, don't run out and BUY BUY BUY everything people tell you that you might need. Start small, you'll learn as you go what is useful to you.
Many of the links below are affiliate links, meaning you pay the same, but I may make a little bit if you purchase. Unless stated otherwise, every item here is something I own and use in my RVs.
Essentials
There are a few items that you are going to need to use your RV. Some dealers throw in a cheap version of some of these with the purchase, and others you are left to figure out on your own. Don't go cheap – things like those small brass "pressure regulators" seem to be nothing more than flow restrictors. And that cheap dump hose could easily leave you in a messy situation.
Everyone has their own way of doing things. What is listed here are what I consider the bare minimum. Don't over do it and shop till you drop. Instead start minimally and learn additional things you want to take with you as you go
Plumbing
If you are not familiar with the basics of RV plumbing or want to see how I use this gear, catch up here.
Waste Water
I've tried a lot of hoses and this has been the best for me.
Lets you see what is coming from your tanks.
Adapt to damaged or non-standard dump stations.
You probably don't need 6 of these so lifetime supply?
Build a nice all down hill slope for the hose.
You are probably wondering – but what about tank treatments? Everyone "needs" those right? Reality is, no, you generally do not need to treat you tanks. On rare occasions I will fill and treat my tank with Happy Camper, however as I don't like Zinc Salts going into my home septic system, this is vary rarely. I also rarely have any oder problems inside the RV – make sure your tanks are vented properly and neither will you.
Fresh Water
Takes up 3 times less space and is easy to use.
Protect your RV from some parks EXTREMELY high water pressure.
Electrical
If you are not familiar with the basics of RV electrical systems or want to see how I use this gear, catch up here.
For 30A RV
To connect to standard household 15 or 20A plugs.
To connect your 30A rig to a larger 50A service.
For a 50A RV
Hook your 50A rig to a 30A outlet
Using this and the first adapter to connect to a standard home 15A plug.
Camp Setup
Solid and sturdy wheel chocks.
Leveling blocks. Try to stick to one brand for compatibility.
Most of the items above can be replaced with standard lumber – but takes up more space and weighs more.
Tools
I'll repeat, this section is "bare minimum" in my opinion.
I had the old school "cross" type lug wrench, but it was too thick to fit the holes in the wheel and get the lugs off.
Or a battery powered 1/2″ impact.
I won a set very similar to this at a Veterans Charity event and am very happy with it.
Viair has a huge following in the RV community. I actually carry this, which I'll go into as we get away from "essentials."
Invaluable stuff. I had the rubber roof of my RV pull and tear and flapping in the wind. A bunch of this stuff got me home.
I have this under critical as it brings a HUGE safety aspect to traveling down the road.
Please, don't leave home without a multimeter!. Even if you don't know how to use one, it is nearly impossible to troubleshoot any electrical problem without it. BEGINNERS GUIDE TO RV ELECTRICITY
Extras We Love
I consider most of these items "essential" to the way we camp, and I wouldn't go without them. However they are not essential in the purest since of the word and you can get by without them.
Plumbing
Most of this is described in the BEGINNERS GUIDE TO RV PLUMBING, but its worth reiterating here.
Having a valve at the connection point prevents surprises if one of the other valves didn't happen to close properly. Also, this one has a clear section so you can see what is waiting for you behind it.
Yes, I carry 2 of these. Some campgrounds aren't well laid out.
Handy if you need to share a spigot or need to hook up 2 things at a time.
Have one of these on every hose – in the camper or at home.
Mine is the "Save a Drop" brand, but they looks the same and the Save a Drop is unavailable.
Every hose and connection point I replace the cheap included washers with these nice o-ring style that seem to last forever.
Leave on the city water hookup connection to relieve stress on the hose. Either 45 or 90 degree models based on your setup.
I don't use this all the time, but when the campground water is heavily chlorinated they help a lot.
For me, these anode rods last 2-3 years each.
I keep one or 2 of these in the camper, part of my "prepper" mentality.
Flush out the water heater at least once a season – tons of gunk comes out.
If your fresh tank is gravity fill, this makes it MUCH easier to do.
I've never actually "needed" this, but have tested and it will work if your water source has stripped out threads.
Installing this was the best thing I did for my black tank. Proper ventilation is the RIGHT way to solve tank odors.
Been using Oxygenics low flow shower heads since we started RVing. Love em.
Had a problem one time….so now this hangs in the bathroom….
Electrical
I tend to "hack" the most on my electrical system. It's an area where you can really see the improvements with some simple modifications.
Powering the rig
Not using power protection is kind of like not using condoms when you don't know where that power pedestal has been. I believe you need more than a surge suppressor and recommend the full Electrical Management System (EMS) units. I don't think it is a good place to cut corners.
This is the one I installed in our rig. Hardwired like this does require some electrical know how as a DIY project. On this page you can find both hardwired and external units in both 30 and 50 amp.
LOVE THIS. Best way to know how much battery capacity you have when boondocking.
I've installed in every camper I've owned, great units. However, when I decide to go Lithium on the batteries I'll be investigating others like Victron.
Don't use this guy much, but it has helped when troubleshooting a buddies camper while on the road.
Plugs into the above converter and gives you a visual indication of the current charge mode as well as giving you a way to change the mode.
Powering Stuff
Camper came with USB plugs on the nightstands. I replaced with these to get more flexibility on what can be used.
And I use these so that as technology changes I can just change the plug to the latest and greatest!
Powers my TV when we are off grid.
I use this to split the single car charge type outlet near the TV.
Keeps my 18650 batteries charged up for use in flashlights etc.
I have one in the truck and one in the camper – can be used for anything 12V. I'm skeptical on it's ability to jump my Duramax, but who knows….
I put one of these in the passthrough storage to power my 12V beer fridge. I also plug the pellet smoker in here.
Tools
I think I have a problem…..not enough tools! I try hard to have the tools needed if something goes sideways while out on the road.
Tools are mostly stored in these locations.
Truck Bed Toolbox
Front Storage Passthrough
Small Exterior Compartment (Ryobi Space)
Chemicals and Lubricants
Everyone needs this, but you can get cheaper locally. It is NOT a lubricant!
I mostly use this for the hitch balls and pins and general lubrication.
I use this stuff on just about everything else, like slides.
Teflon tape for water connections – such as the Anode Rod.
For connections that have petroleum – mostly I use on propane connections.
Hand Tools
1-1/16″ socket for the Subruban water heater anode rod.
A pretty decent and compact collection of the most common tools.
Mine is VERY similar to this from Costco, however Costco doesn't seem to have it anymore.
Used often out in the woods to clear trees that would scrape the top of the rig.
I WANT THIS. But currently have a cheap garden shovel in the rig.
Honestly, most often used to drive stakes in the ground, but it has chopped wood in it's days.
Mine are similar to these and I use them ALL THE TIIME. Especially during camp setup/teardown.
I've used my similar bottle jack for raising the trailer when the built in electric jacks couldn't get the job done. As well as for things like tire changes.
Power Tools
Most folks use a power drill in their rigs, but I've taken it a step further. I settled on Ryobi for it's large variety of tools and price point. Having a single battery platform for all your power tools and gadgets is a game changer.
You can find Ryobi all over the place, however for factory warranty they are exclusive to Home Depot here in the US. Also, Direct Tools sells Factory Blemished or Reconditioned tools at what can be substantial savings and still get the warranty. Every "blemished" tool I've received from Direct Tools has been in perfect new condition.
All of these tools are on the 18V Ryobi ONE+ battery system, meaning they all can use the same batteries. Because models and links change rapidly on Direct Tool and Home Depot, I won't link to the tools themselves, but instead just show an image and a description of how I use them.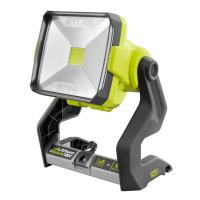 Camp Kitchen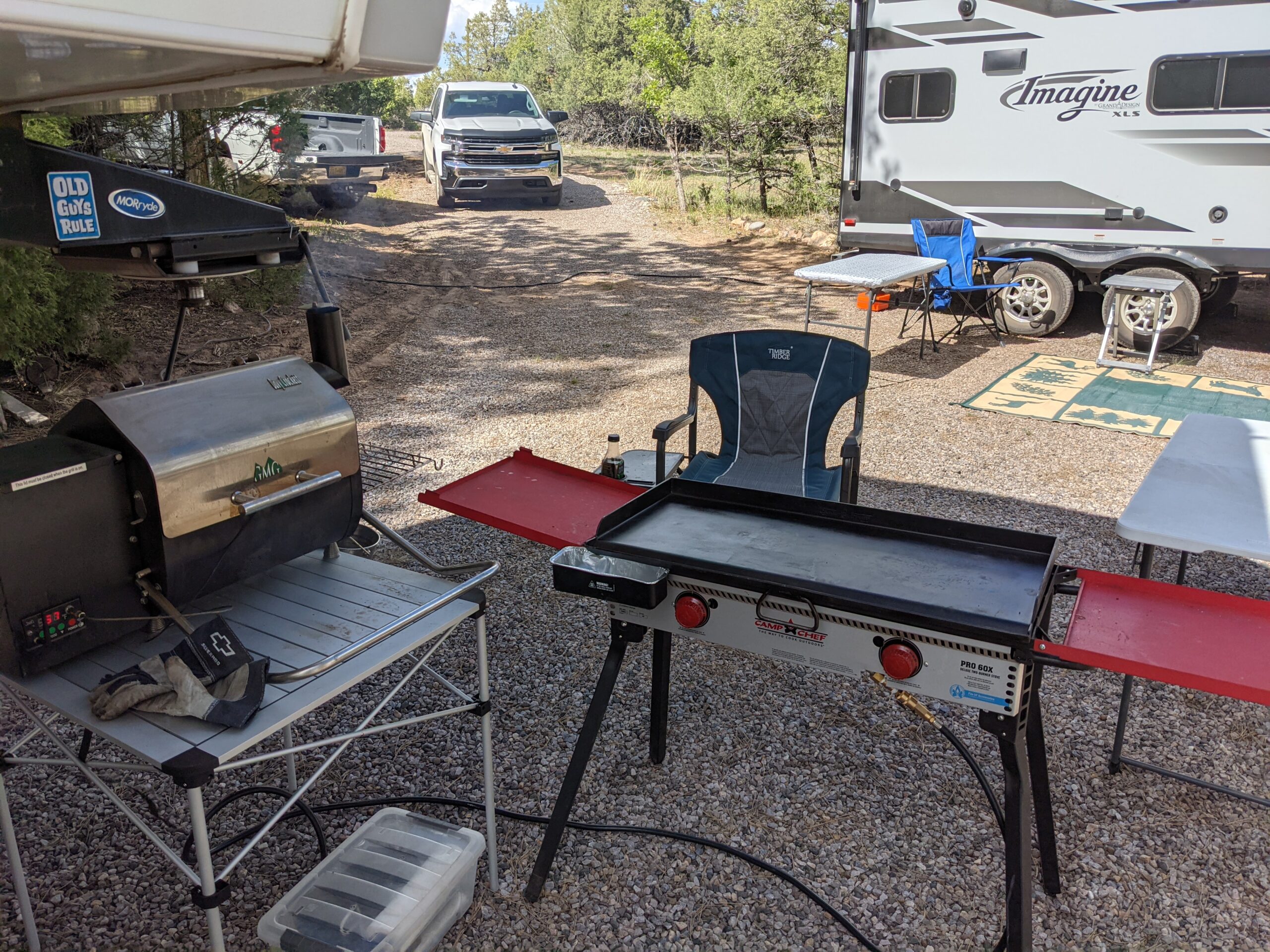 Love this guy. Adapted it to hook to the RV's propane quick connect. Lots of options and accesorries.
Mine is from Camp Chef but appears to be discontinued. Lets you use a dutch oven on the gas grill without briquettes.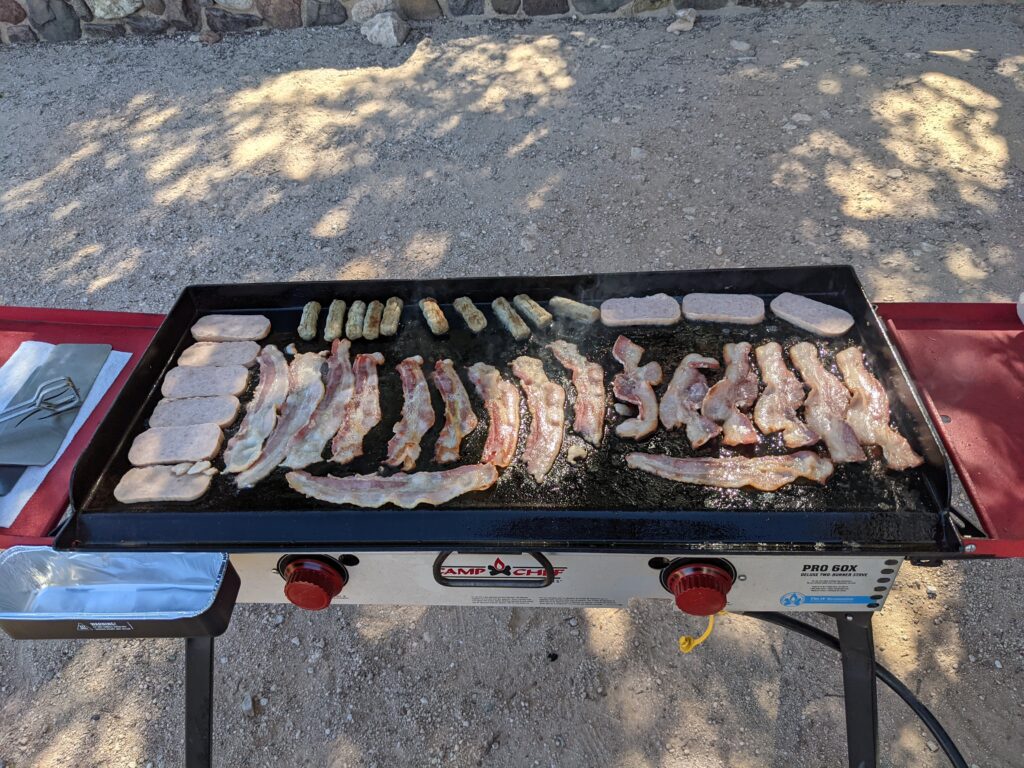 This is how my grill is setup 95% of the time. The 2 burner griddle top is the most versatile, I also have a single burner griddle that is sometimes used so the other burner is available for a pot or the dutch oven.
Good quality griddle tools.
I have the old Davy Crocett model with different legs. Great machine, runs on 12V, low power consumption and smokes up some great food!
Table the right size and sturdy enough to hold to GMG smoker.
Prep and eating table. Also great for playing card or table games.
And the Rest…
Similar to what I have, really helps cut down on dirt getting into the camper.
Mostly used to hold the entry mat when it's windy.
We got the one we use many years ago. Throw a rock in the bottom (wind) and put a bag in. Collapses small for storage.
I get amazed at the ways we find to use these. From holding propane bottles in the bed of the truck to hanging a sheet for a movie screen.
Best "rope" to use for all kinds of things around camp.
I carry several tarps in different sizes. For things like covering the woodpile in rain, to building a shade or kids making a fort/shelter.
An area to not cut corners, get something comfortable. We currently have this model, also available from Costco likely for less.
I think the next ones we'll go back to Kijaro as they seat you in a more reclined position – our old ones wore out. https://amzn.to/3mzApim