Intro
The wife and I loved our 2018 Arctic Fox 27-5L and this is my review and ramblings after 5 years of ownership. This is first time we bought a new camper and that brought with a a new experience for us. For what we do and love this is our perfect camper. We spent a lot of time researching and looking a myriad of makes and models before we made this choice. Is it the perfect camper? NOPE. But we do feel we made a good decision and that this setup will worked for us for a long time and is going to be right for some other folks as well.
We'll also list out the repairs and modifications we have made over the last 5 years.
For some help in making your own decision on the right camper for you, check out our Beginners Guide
Why we chose the Arctic Fox 27-5L?
We had a few factors that were key in this decision. The toy hauler we had at the time worked well for us as far as the type of camper – we wanted to stick with the 5th wheel format.
Wife likes the interior (see, I can learn from mistakes)
Tons of interior storage space.
32′ or less maximum acceptable length.
Heavy duty.

Confident in frame and hitch for trailering toys behind.
Solid Construction

Reputation for quality.
Did I mention my wife must like the camper?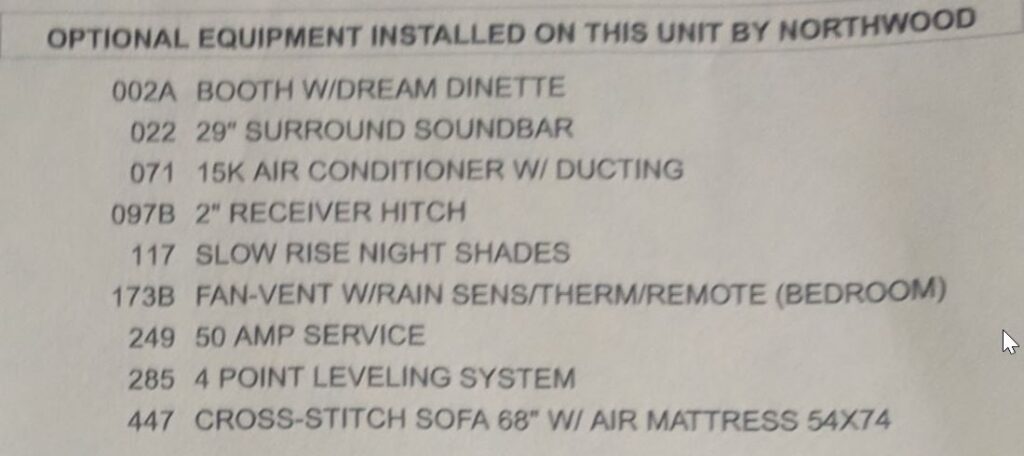 Interior – WAF / Wife Acceptance Factor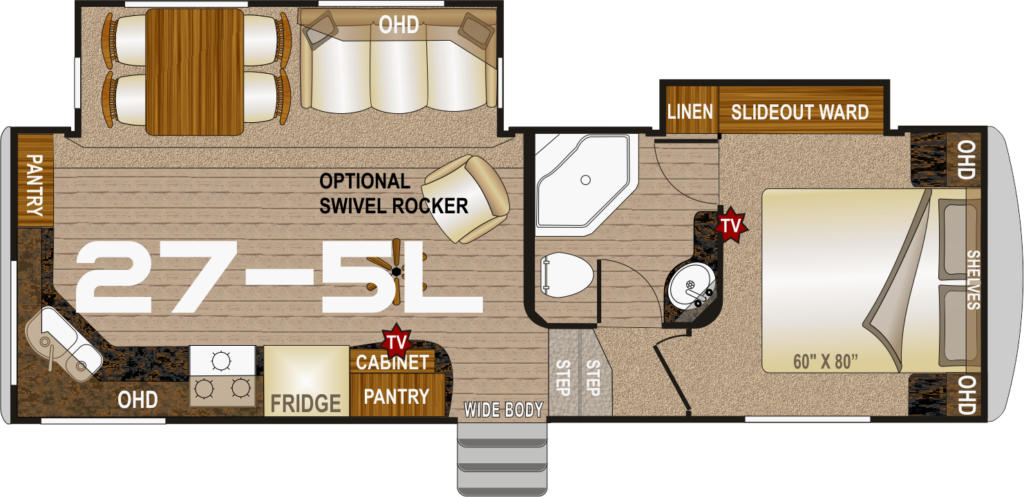 I don't blame her at all. The Raptor was functional, but not the most useful or comfortable layout. When camping I spend almost all of my time outdoors unless I'm sleeping. She on the other hand will often sit in the camper reading or writing. When we bought the Raptor my focus was on the functionality and weight of the toyhauler, hers was and is around the interior.
The level of quality in the interior is markedly better in the Fox. That and there is more room inside. The hauler was 33′ long – with 10′ of that being a separate garage. The Fox is 30′ long – all living space.
Kitchen
It may seem strange, but I look very hard at the cabinetry when evaluating a RV or Camper. It seems that if the manufacturer spends the time and money to do this right, that tends to translate into the rest of the camper as well.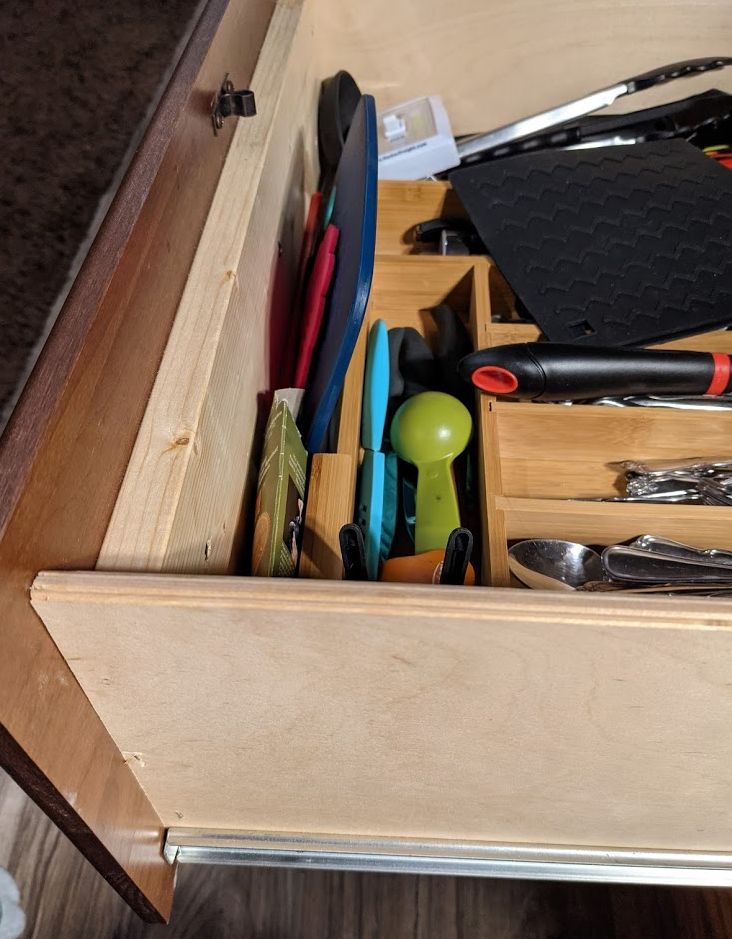 The cabinets are wood finishes with limited use of laminates or vinyl. There is some, but not a lot. No pressboard in the hidden areas that I could find, instead it is either softwoods or plywood. Not a fan of the staples instead of screws or a proper wood joint, however unless you get into a VERY high end and expensive units it is what you get.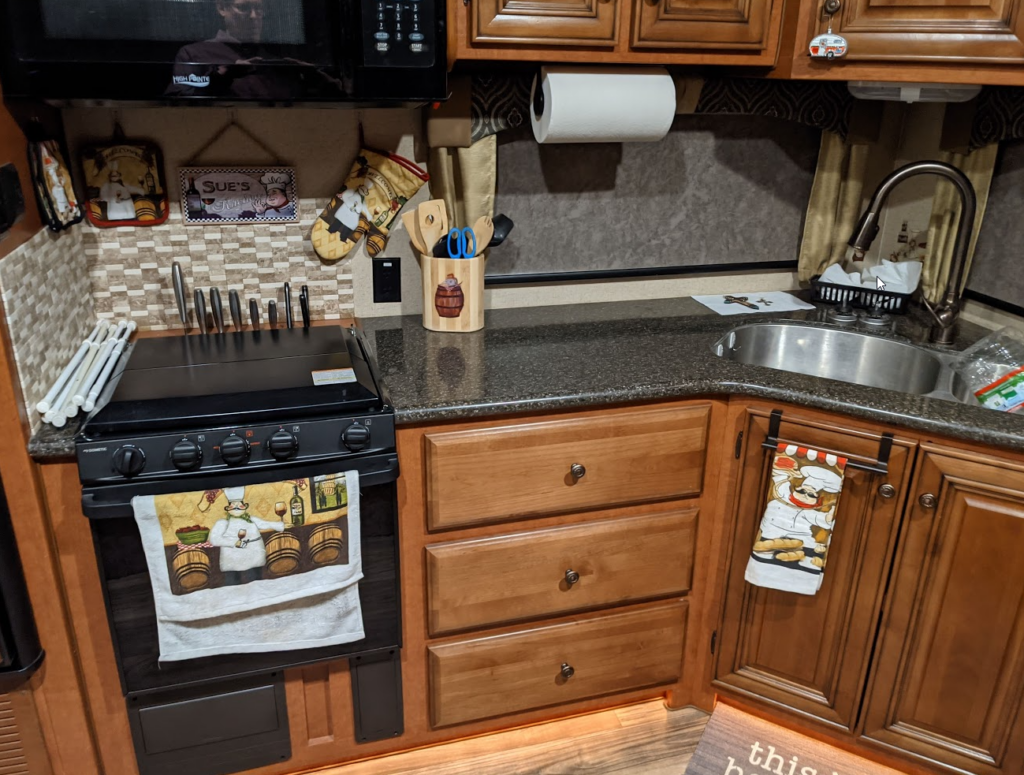 The kitchen is well designed and functional with my one complaint being the 3 very deep drawers next to the sink. Almost seems the could have made 1 deep, and 3 shallow drawers that would have been a better use of space.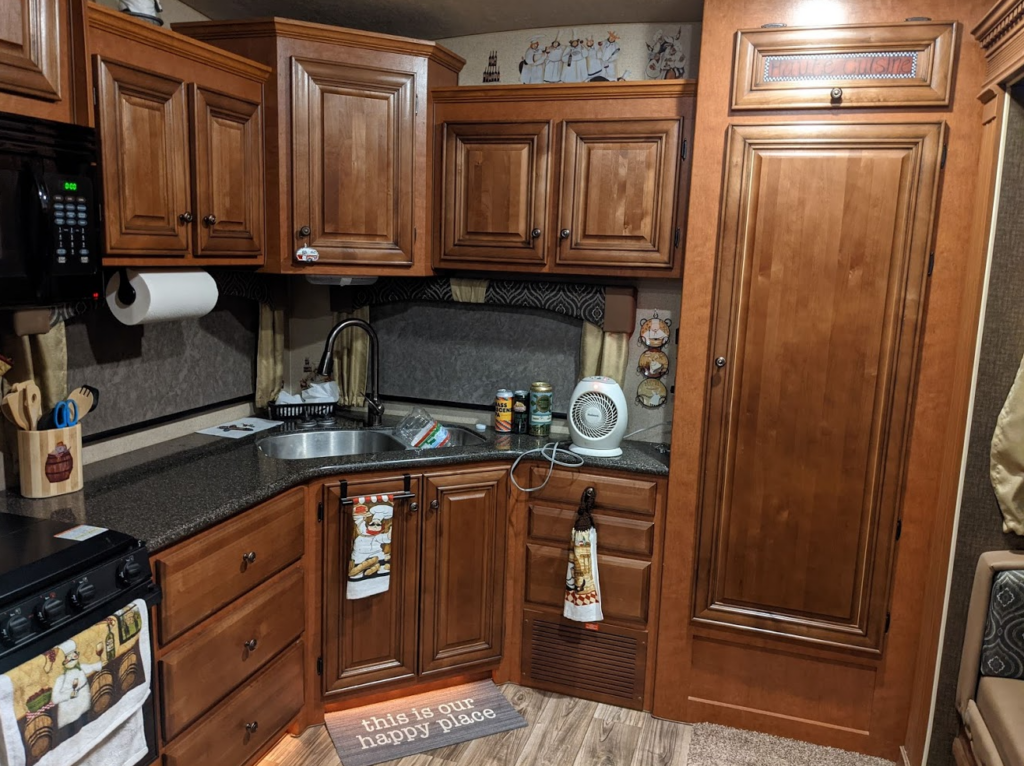 Some of the cabinets are VERY high to the point that even I need a step stool with my 6′ stature and long arms. This is good – that is where I get un-invaded space for my stuff!
Dining Room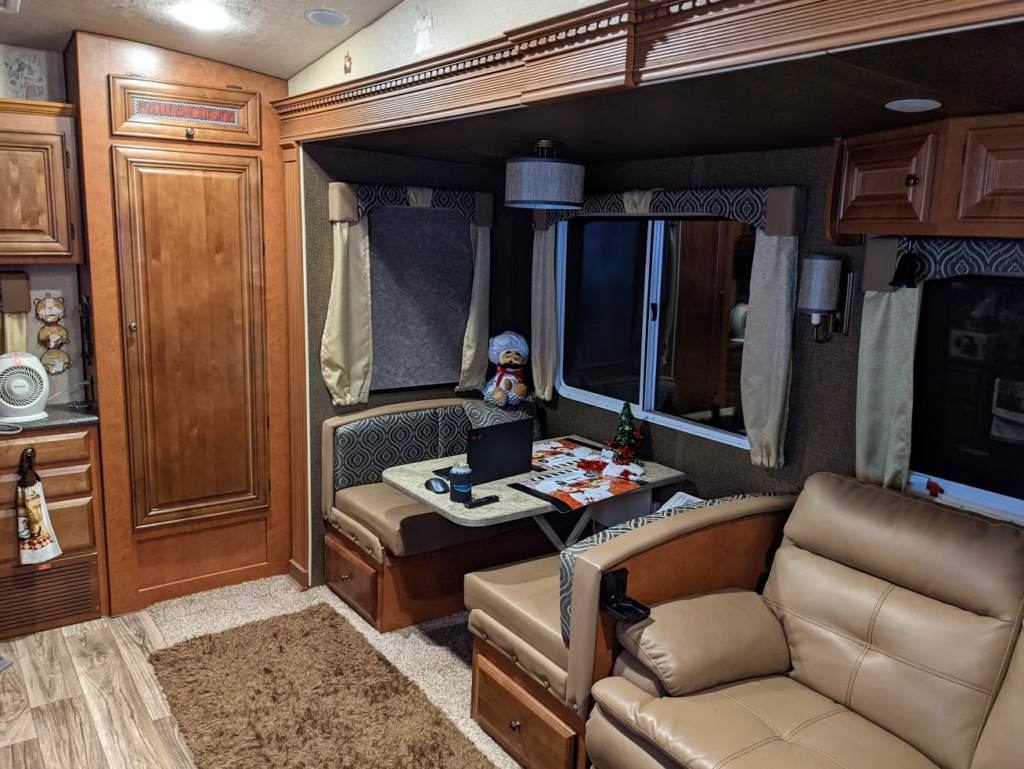 For the dining area we opted for the dinette rather than the free standing table and chairs. This gives us 2 advantages – one is a lot of storage under the seats. Those drawers go 1/2 of the way back to the outside wall. The other 1/2 is accessible through hatches on the outside of the trailer. Love that! Converting it to a bed gives the grandkids a place to sleep.
Living Room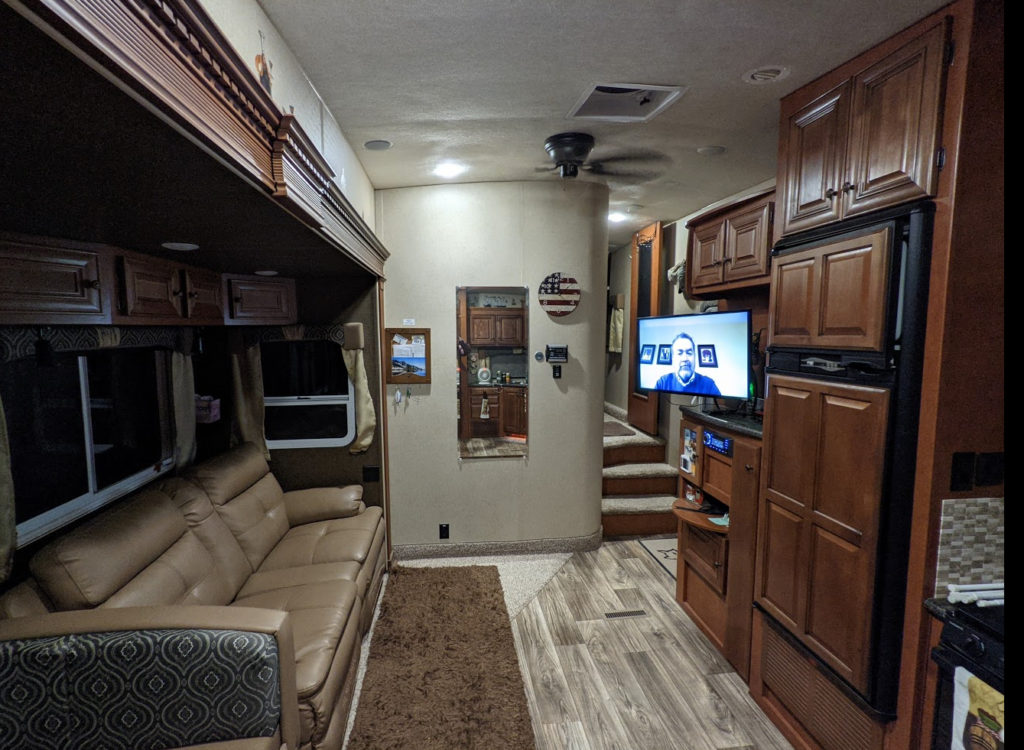 The living room is really good for size of unit. Easy to sit on the reclining couch and watch some TV.
Yes, I'm being generous calling these different rooms, but give me a break, the trailer is only 30 feet long!
Bed and Bath
The bedroom and bathroom are all of similar construction. The main wardrobe and bathroom closet are on the small slide up front and it works well.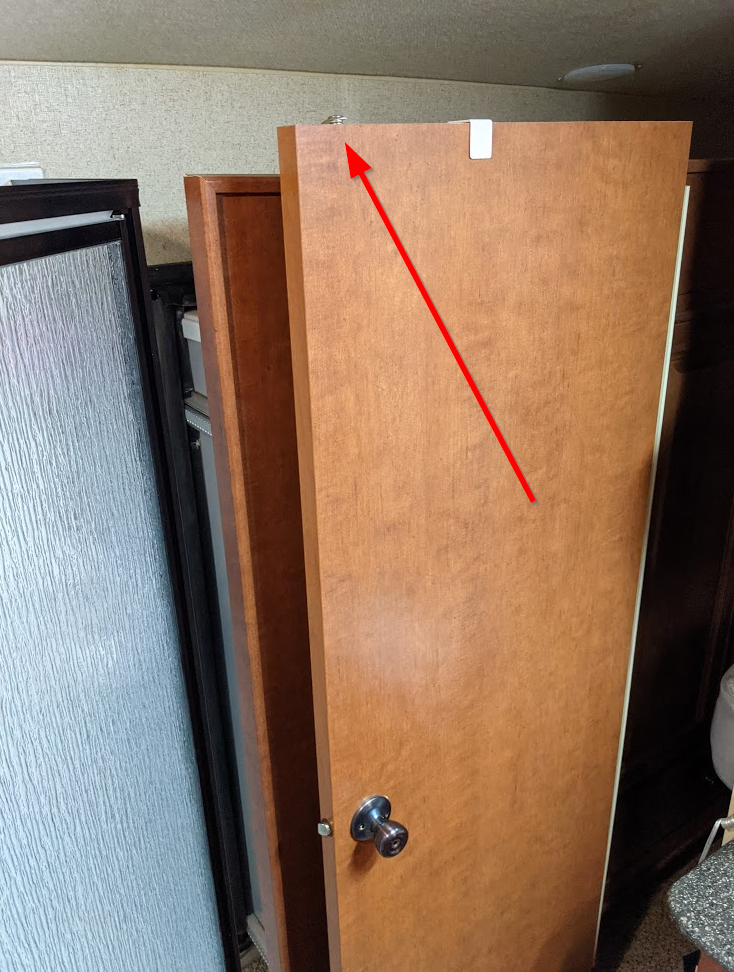 One odd thing is the door from the bathroom to the bedroom is actually hinged on the slide – the whole door moves in and out and must be secured with a strap before pulling in the slide. We watch this closely as it is a known issue where folks break the strap. When/if it happens, I'll replace it with either a strong magnetic catch or velcro.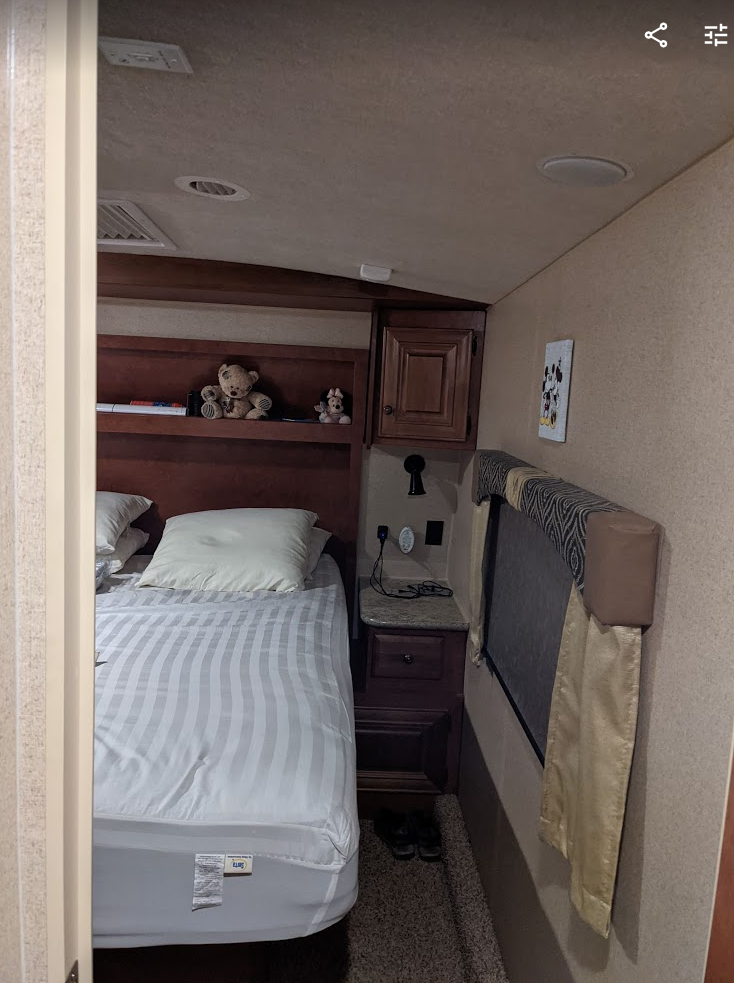 Space on the side of the bed is about the same on both sides. Not huge, but plenty considering we get a full sized queen bed. The mattress that came with it is just OK. When we get to where we spend months on the road I'll likely replace it.
Exterior Design and Construction
Lets dig into some specs. The trailer is 29.9 feet long and 8.5 feet wide (yes, widebody). With the slides in it is VERY close to the width of the 2020 Duramax Dually.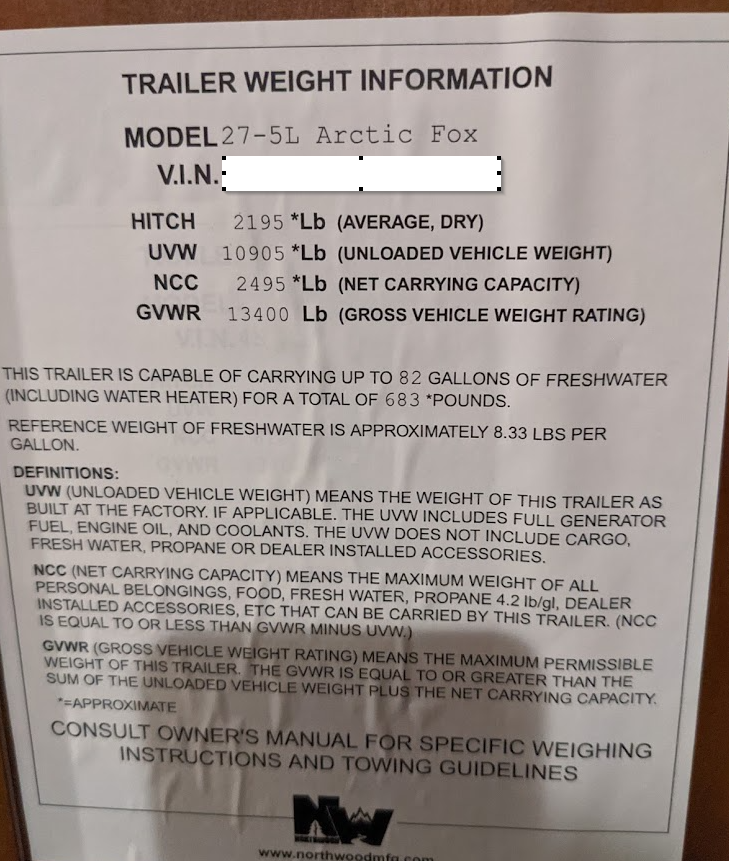 For it's size, this trailer is heavy! The truck we had when we bought the Fox was a 2005 Ram 2500 Cummins that had a cargo capacity of right at 2000 lbs. The hitch weight above, plus the fact we double tow are what drove me to get the Chevy Dually. We did a couple of fully loaded trips with the Dodge and didn't feel unsafe, but the drive experience is like night to day between the Dodge and the Chevy Dually. Lesson learned here is that having more truck than needed makes for a very nice ride. I don't even think about those trailers back there when pulling with the Chevy.
Specifications from 2021 (not much has changed):
Dry Axle Weight (approx. Lbs.): 8689
Dry Hitch Weight (approx. Lbs.): 2246
Net Carrying Capacity: 2665
Gross Dry Weight (approx. Lbs.): 10935
Gross Vehicle Weight (GVWR) – Lbs.: 13600
Exterior Length (approx. w / hitch): 29'9″
Exterior Height (approx.): 13'5″
Exterior Width (approx.): 8'6″
Tire Size: ST235/80R16
Load Range: E
Fresh Water Capacity (w/water heater, approx. gal.): 88
Gray Water Tank (approx. gallons): 67/35
Black Water Tank (approx. gallons): 65
LPG Capacity (approx. lbs): 80
Sleeping Capacity: 4
CSA – Canadian Dealers Only: Yes
Auto Ignition Furnace (1,000 BTUs): 35
Construction
The frame is critical to me. I camp off of forest roads pulling a second trailer behind my camper.
The Fox's frame is manufactured by Northwood. This isn't the norm as most manufacturers buy their frames from 3rd party, usually Lippert. Story goes that when Ron Nash started the company he wanted to build something capable of going off road and back into the mountains in Oregon where they are based. I've never found a case of a Northwood 5th wheel frame having issues…not saying it hasn't happened, just I can't find reports of it.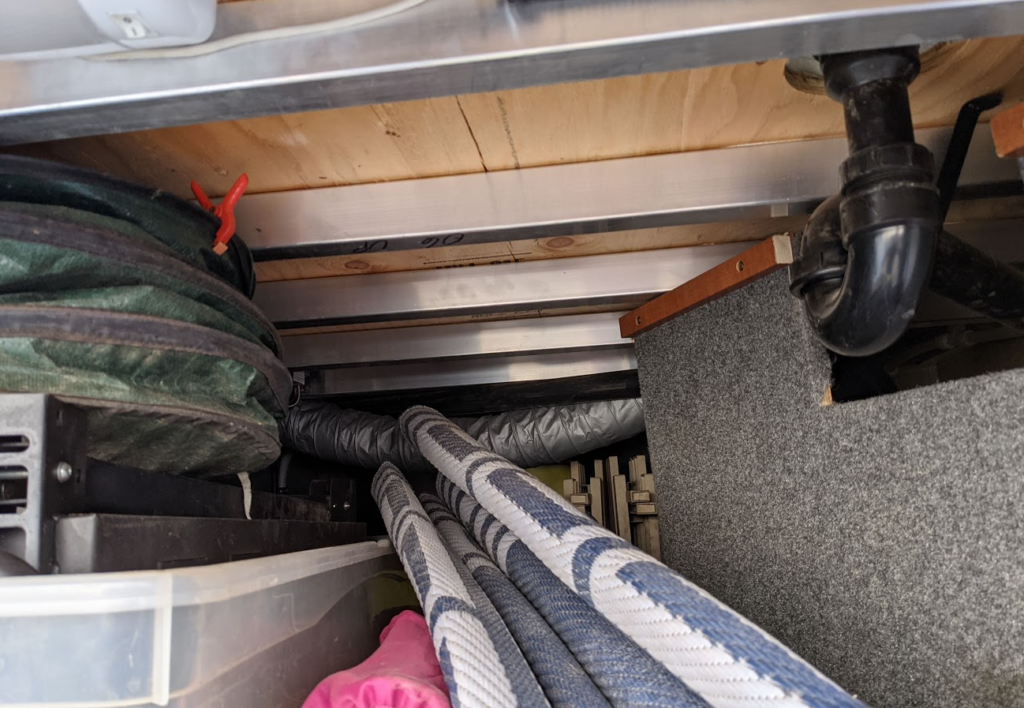 The body construction is aluminum framed. They put wood inside of the rectangular tube aluminum framing to give the screws something to grab on to where things need to be mounted. Much better than just drilling into aluminum alone and expecting it to hold on a unit that will bounce down the road.
I don't believe any press-board is used in this trailer. I haven't found any. Thick plywood floors don't bounce around as you walk and the whole thing feels stable. You do feel some rocking when someone is moving around as is typical with all trailers. Doesn't bother me enough to have done any of the available mods to help with this.
For an RV, it has pretty good insulation and double pane windows. Those windows make a HUGE difference, I was surprised at just how much cold comes in through the windows. Not to mention helping control condensation.
Reputation
I spend a ridiculous amount of time in the RV Camper forums (the original social media) around the internet. For this purchase instead of running around to dealers I ran around the net looking at brands and makes that seemed to have a higher standard of quality and customer service. I had a few favorites before I hit the streets.
Northwood (Arctic Fox) / Outdoor RV
Grand Design
Winnebago
KZ Durango (found this while out looking on the streets)
We looked at everything out there, and I think hit every dealer in the greater Albuquerque area. The Northwood dealer was a bit away from us, about 1.25 hours drive so it was saved for last. As we were doing this search I was spending a lot of time reading on the Northwood RV Owners Association website.
I STRONGLY recommend you get involved in the forums of any unit you are considering buying. The things like Facebook or MeWe groups are useful, but to really find the GURU's of the brand, nothing beats the old school forums. Well, except for our very own member community of course. Spend a good chuck of time at these places. Search them for good keywords like "problem", "broke", "failed", etc.
So, having looked at just about everything that would meet our need in our market, we went out to RV Sales in Moriarity, NM. WOW, what a breath of fresh air. This female owned and ran business knows customer service and does the right things by their customers. This very small dealer and runs the place knowing that the customer and employee's are their most valuable assets. They had a 27-5L on the lot outfitted exactly how I would have ordered it myself. SOLD.
Repairs Needed
Small Slide had a leak (write up on this to come)
Resealed the shower enclosure with Proflex
Water Pump check valve

The water pump firing when no water was being used.
Likely fresh tank would have filled when hooked to city water.

Tighten lugs on wires to generator transfer switch

No built in generator, however switch is included when ordered with 50A service
This was a VERY dangerous situation from the factory.

Resealed the front and rear caps with Eternabond Tape
Dealer replaced the entry door. It was sticking and hard to close.
Modifications Done
Unless otherwise noted, any item linked the actual item I purchased. It is typically Amazon and is an affiliate link.
Electrical Specs
Our dealer installed two Interstate Golf Cart (GC2-ECL-UT) batteries when we purchased it. As typical for golf cart batteries, these are 6V and have a capacity of 225 Amp Hours (Ah). They are wired in series to give me 12V and 225 Ah of capacity, 115 of which is actually usable. Learn about batteries here.
I added 375W of solar using the existing solar wiring, and upgraded the stock Zamp 15A charge controller to a Zamp 30A to handle the increased output.
A Victron BMV-710 keeps informed as to battery status, and Progressive Industries EMS protects the AC side of the house.
For our style of camping this setup is working well and we rarely need to worry about how much electricity we are using.
Final Thoughts
We absolutely love the trailer. Its small enough we can get it back into the forest where we like to camp, yet large enough we can take all our "stuff" and be comfortable. It tows like a dream behind the Chevy and has no problems with the toy trailer running along behind it.
My wife has made it hers (as you can see in the interior pictures). Something she hasn't done on any of our other campers to anywhere near this extent.
I'm very pleased with the quality of construction and build. I could use a bit more storage as I take a TON of stuff with me when camping. I mean, a stupid level of stuff with my large Griddle, BBQ smoker, generator, e-bikes, etc. It's tight, but I manage.
Is it perfect – NOPE! Every camper is a compromise in Quality / Price / Weight / Size. They all have issues at some point, some minor and some can be pretty major. All you can do is take it all into consideration and make the right decision for you.
We feel strongly that this was the right camper for us at that point in our lifelong camping journey.